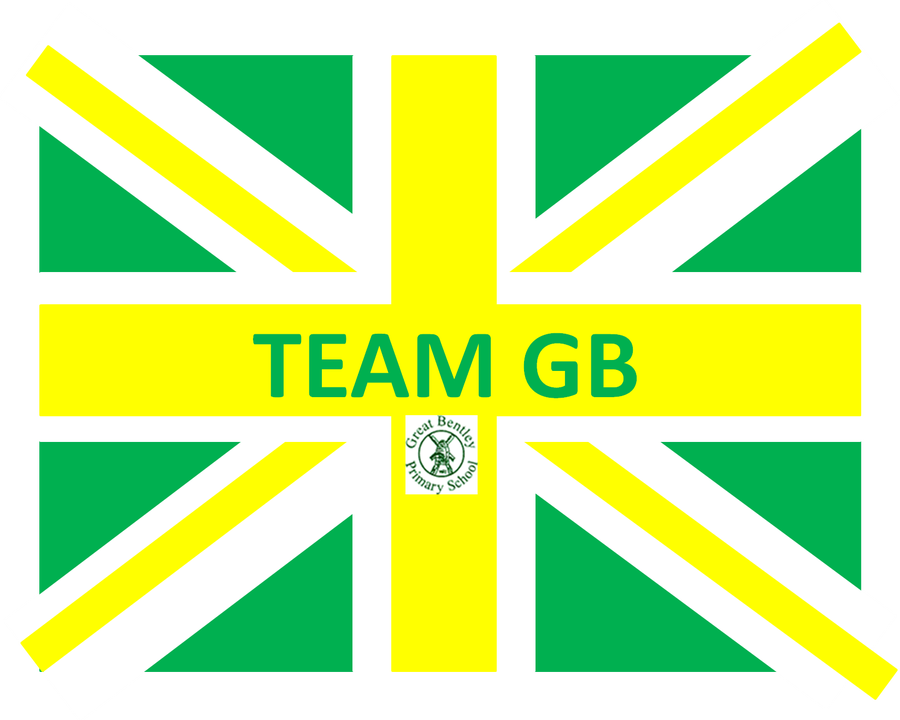 Welcome to the Great Bentley Sport Page - Go Team GB !
PE Curriculum
PE at Great Bentley Primary School plays a vital part of everyday school life. All pupils have two hours of PE timetabled each week to cover the six main areas of the National Curriculum which are dance, gymnastics, games, athletics, and outdoor and adventurous activities. The 6th area, swimming, is catered for by providing funding from the Government's sport Premium budget to support parents, particularly in Year 3, in paying for swimming tuition at our local public pools. A healthy lifestyle is also promoted in various ways around the school.
Fun, enjoyment, confidence, competence and self esteem are the forefront of our PE delivery. Children in Nursery, Reception and KS1 develop the fundamental skills such as aiming and throwing, balance, co-ordination, control, and movement. In KS2 children are able to use these fundamental skills to develop their knowledge and understanding of invasion games such as football, basketball, netball, tag rugby and hockey. These skills are also transferable to striking and fielding games such as cricket and rounders, together with net games such as tennis and badminton.
Extra Curricular Clubs
We are very proud of the range of extra curricular activities that we have developed over the last few years at Great Bentley. They take place at lunchtime and after school. Parents have the responsibility to ensure that children are collected promptly at the end of club sessions.
We are always looking to increase the number of extra curricular activities that we offer and are open to ideas to improve our provision.
We have run or are running the following clubs this year:
Netball

Hockey

Badminton

Football

Cricket

Multi-Sports

Dance

Fun project club

Stomp

Cooking

Sewing

Tag-Rugby

Drama

Music Theory

Choir
The children run a variety of clubs at lunchtime themselves and these change weekly and termly.
We are always looking to develop more clubs so if you have a skill, an interest or a talent that you could share with us please let us know.
Sports Premium
Please click on the link below to view the funding report for 2017-18.
CLUBS
See below clips captured of clubs in action by our Year 6 VLOG leader Lewis.....
Stem club...